THANKSGIVING DAY
Thanksgiving in the United States most typically revolves around the turkey, with sides of mashed potatoes, stuffing, and cranberry sauce. The common dishes you see at Thanksgiving are the dishes that Pilgrims received or learned how to produce from Native Americans. On Thanksgiving day, people eat more food compared to any other day of the year.
Turkey
People most commonly consume turkey on Thanksgiving, which is why it's sometimes referred to Turkey day.
Turkey's are commonly stuffed with various versions of a bread-based mixture. Traditional stuffing includes cubes of bread, sage, celery, carrots, and onions. The bread used in the stuffing is up to preference, while southerners use cornbread, other parts of the country opt for white, wheat, or rye bread. Other common ingredients include chestnuts or a tree nut, a meat such as sausage or bacon, and something sweeter such as cranberries, raisins, or apples. The mixture can also be cooked outside the bird, in which case would be referred to as dressing.
In some cases, people will choose a different main dish for Thanksgiving such ham, goose, or duck, or quail. Peak crab season begins in November which results in some families on West coast opting for crab as their main dish. Vegans and vegetarians opt for a tofu-based or stuffed squash main dish. Other cultures have chosen whale meat, prime rib, or capon as their main course.
The dishes served at a Thanksgiving dinner reflect a family's culture or region in which they reside. A few examples are: Sauerkraut being served in areas such as Baltimore; People in the South and African Americans will serve collard greens, macaroni and cheese, and sweet potato pie; And those who identify as Mexican Americans will serve their turkey with roasted corn.
Drinks served during Thanksgiving can vary just as much as the food. Some may serve alcoholic beverages before dinner, and during dinner wine or sparkling cider will be served. Sweet tea is a favorite for Southern families. Further, Thanksgiving ignites the beginning of eggnog season.
Here are some recipes you can prepare as part of your Thanksgiving meal!
Ingredients
3/4 cup large diced dried figs, stems removed
3/4 cup dried cranberries
1/2 cup Calvados, a French apple brandy, or regular brandy
4 tbsp (1/2 stick) unsalted butter
1 1/2 cups diced onions
1 cup 1/2-inch-diced celery
3/4 lb. pork sausage, casings removed (sweet and hot mixed)
1 1/2 tbsp chopped fresh rosemary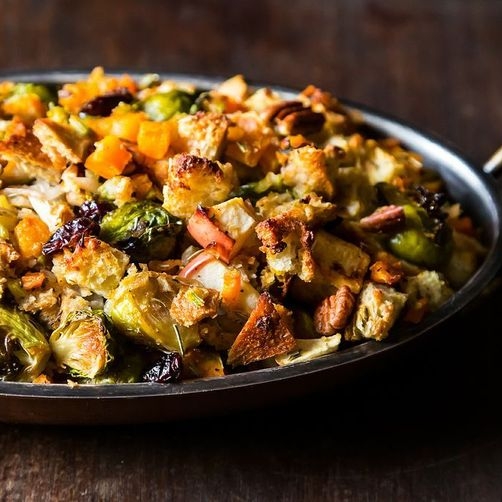 BUTTERNUT SQUASH & BRUSSELS SPROUTS
Ingredients
1 pound butternut squash, cubed
1 pound brussels sprouts, halved
1 medium gala apple, cut into a 1/2 inch dice
2 shallots, thinly sliced
3 tablespoons olive oil, divided into 2 tbsp and 1 tbsp
1 cup onion, diced
1 cup celery, diced
PROSCIUTTO WRAPPED GOAT CHEESE STUFFED DATES
Ingredients
12 dates, pitted
2 ounces goat cheese, softened
2 ounces low fat cream cheese, softened
1 teaspoon fresh thyme, chopped
2 tablespoons pecans, chopped
1/8 teaspoon kosher salt
1/8 teaspoon black pepper
6 slices prosciutto, cut in half lengthwise
Ingredients
13 cups dry bread cubes*
1 cup chopped celery
1 cup diced onion
1 1/2 cups butter
2 1/4 teaspoons salt
1 teaspoon ground black pepper
1 1/2 tablespoons poultry seasoning
1 1/2 cups chicken stock
2 large eggs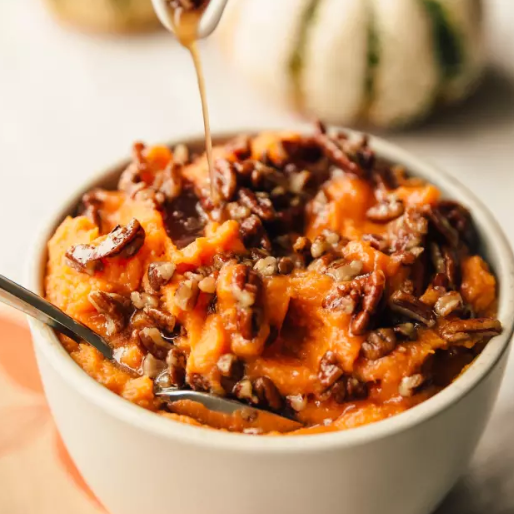 WHIPPED SWEET POTATOES WITH MAPLE PECAN DRIZZLE
Ingredients
6 tablespoons
butter, divided
2 1/2 pounds
3-4 large sweet potatoes
1 cup
Milk (not nonfat), divided
1/2 teaspoon salt
1/4 cup maple syrup
1/2 cup chopped pecans