HEALTHY WINTER SALADS
Sometimes the hardest thing to do in the frigid winter months is to muster up the motivation to cook a healthy meal. Soups are great for staying warm, but what about incorporating a winter salad into the mix? There are plenty of healthy winter salads that you can easily whip up in the comfort of your own kitchen. Here are the best recipes we love!
WARM & ROASTED WINTER SALAD BOWL
INGREDIENTS
2 large (400 g) Yukon Gold potatoes, chopped into 1/2-inch chunks (2 1/2 cups)
12 ounces (350 g) green beans, trimmed and chopped into 1-inch pieces (3 cups)
3 large garlic cloves, peel left on
1 tablespoon (15 mL) extra-virgin olive oil
Fine sea salt and freshly ground black pepper, to taste
1 cup (200 g) uncooked quinoa
1 cup (40 g) stemmed and finely chopped kale (optional)
3 medium (50 g) green onions, thinly sliced (optional)
1/4 cup (40 g) toasted pepita seeds
1 large ripe avocado, pitted and sliced
ROAST PUMPKIN, SPINACH, AND FETA SALAD
INGREDIENTS
PUMPKIN:
600 g / 1.2 lb pumpkin (after peeling), cut into 3cm / 1.25" cubes (Note 1)
1 1/2 tbsp olive oil
Salt and pepper
DRESSING:
2.5 tbsp / 50 ml extra virgin olive oil
2 tbsp balsamic vinegar
1 tbsp honey
Salt and pepper
SALAD:
1/4 cup / 35g pine nuts (Note 2)
150 g / 5 oz baby spinach leaves (4 handfuls)
60 g / 2 oz feta , crumbled
WINTER BEET & POMEGRANTE SALAD W/MAPLE CANDIED PECANS
INGREDIENTS
6 beets quartered or cubed
2 tablespoons olive oil
salt + pepper to taste
1 1/2 cups raw pecans
1/3 cup real maple syrup
1/4 teaspoon cayenne pepper
6-8 cups mustard greens or mixed greens
arils from 1-2 pomegranates
6 ounces gorgonzola cheese crumbed (may also use goat cheese or feta)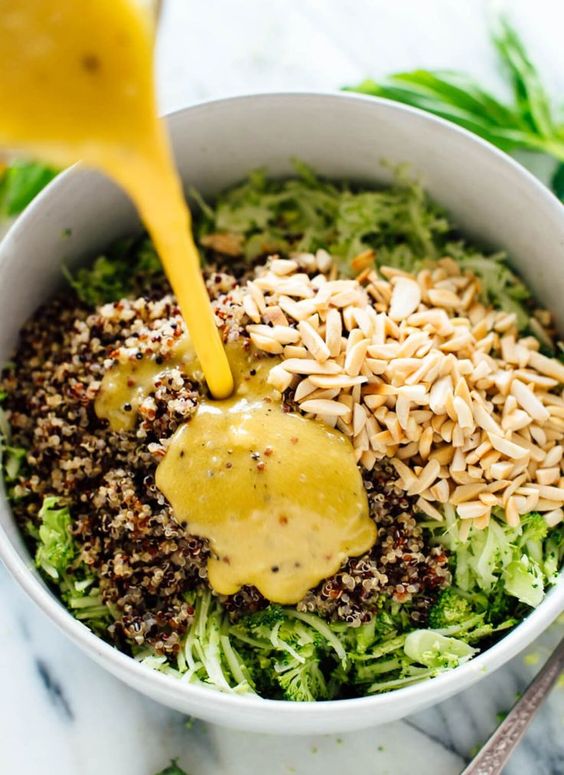 QUINOA BROCCOLI SLAW W/HONEY-MUSTARD DRESSING
INGREDIENTS
¾ cup uncooked quinoa
1 ½ cups water
½ cup slivered or sliced almonds
1 ½ pounds broccoli (about 2 large or 3 medium heads) or 16 ounces shredded broccoli slaw
⅓ cup chopped fresh basil
BROCCOLI SALAD WITH CREAMY ALMOND DRESSING
2 heads broccoli, cut into small florets
2 cups chopped purple cabbage
1/2 cup golden raisins
1/2 cup slivered almonds
1/2 cup chopped green onions
for the miso orange dressing
2/3 cup Simply Orange Low Acid
2 tablespoons miso
2 tablespoons almond butter
1 shallot
2 tablespoons canola oil
Make sure you have the right space to rinse, chop, and mix all of your yummy veggies and add-ins.
Pre-rinse leafy greens in a clean white farmhouse sink, paired with an easy pull-down kitchen faucet. Perhaps you want a full solution to make prep and clean up time even simpler? Try out VIGO's All-In-One Kitchen Sets, complete with a kitchen sink, protective bottom grids, a kitchen faucet, a soap dispenser, and stainless steel strainers.