4TH OF JULY RECIPES FOR A DELICIOUS INDEPENDENCE DAY
Stock up on meats and veggies, and then fire up the grill—July 4 is almost upon us! This summer holiday is practically synonymous with cookouts and delicious grilled grub, meaning the pressure's on to pull out the most mouthwatering 4th of July recipes if you're playing party host this year. From the basics (corn on the cob, coleslaw, and pasta salad) to more out-of-the-box dishes that are still all-American, we rounded up some of the best entrees, side dishes, and easy desserts to complete your celebration.
For starters, wow all your friends and family members with a spicy chili-pineapple salsa that'll complement hot dogs, ribs, and everything in between. Take your 4th of July side dishes to the next level with crowd-pleasers like chive potato salad, Parmesan tater tots, and vegetable kebabs. Finally, top off the night some patriotic sweet treats like mini berry pies or ice cream cake and a festive adult beverage or two (you can also make them alcohol-free so kids can enjoy as well). This year's creative 4th of July menu will keep the festivities going long after the fireworks die down.
Tossed Salad With Green Goddess Dressing
INGREDIENTS
1 ripe avocado
1/4 c. fresh flat-leaf parsley
3 tbsp. fresh tarragon
1 tsp. lemon zest, plus 3 tablespoons lemon juice
3 tbsp. olive oil
1 small clove garlic
2 anchovy filets
1 (.75-ounce) bunch fresh chives, divided
Kosher salt and freshly ground black pepper
3 heads little gem lettuce or 1 small head green leaf lettuce, torn
3 Persian cucumbers or 1 English cucumber, sliced
3 large tomatoes, cut into wedges
Watermelon, Tomato, and Feta Salad
INGREDIENTS
1 baby watermelon (about 3 lb.)
1/2 c. fresh mint
1/4 c. red onion, thinly sliced
12 oz. cherry or grape tomatoes, halved
2 tbsp. olive oil
2 tbsp. fresh lime juice
1 tsp. pure honey
Kosher salt and black pepper
Crumbled feta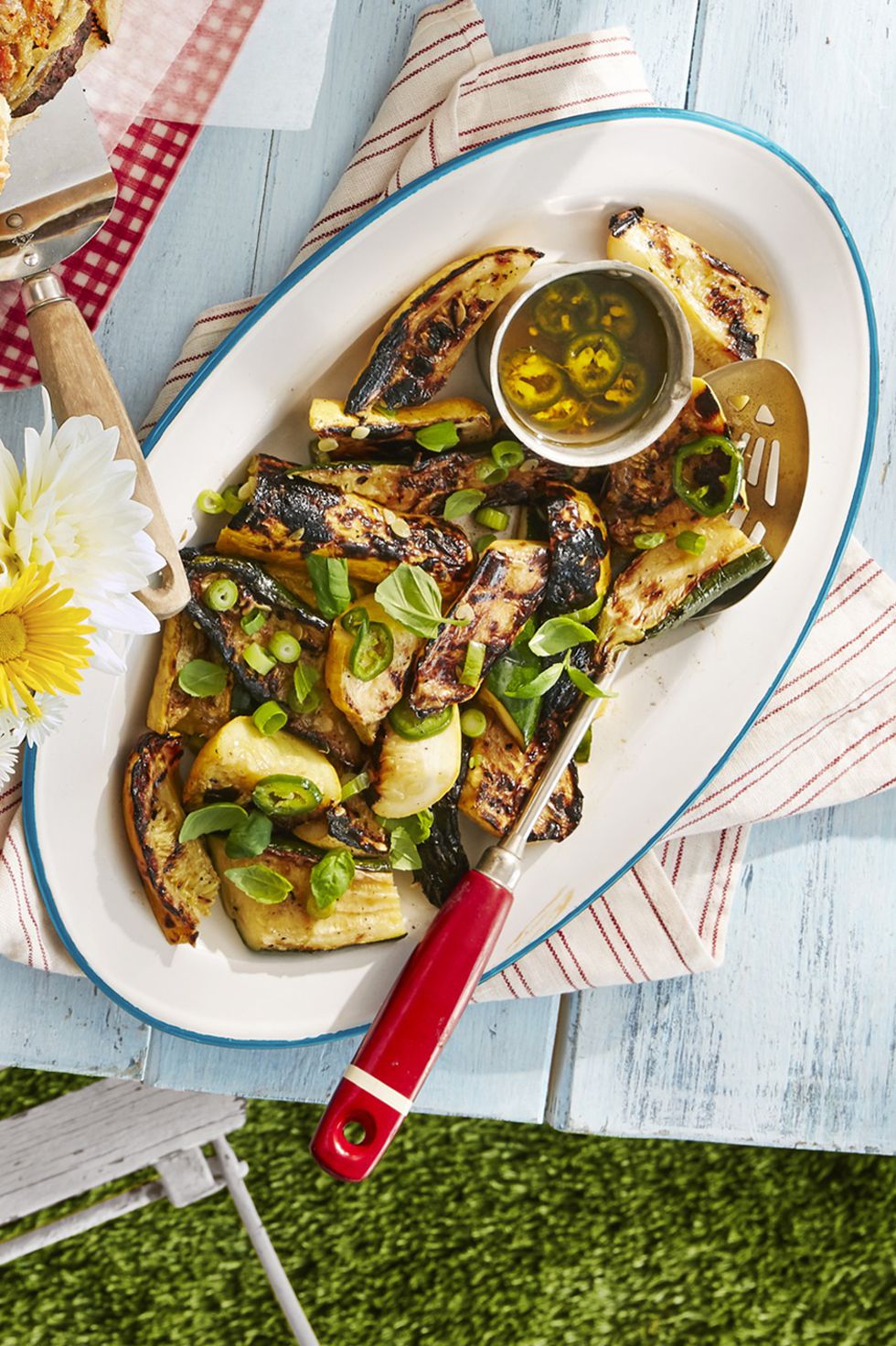 Grilled Summer Squash With Lemon-Scallion Dressing
INGREDIENTS
Canola oil for grill grates
3 small zucchini (about 1 pound), halved lengthwise
3 small yellow squash (about 1 pound), halved lengthwise
2 tbsp. olive oil, divided
Kosher salt and freshly ground black pepper
1/2 tsp. lemon zest, plus 1/2 a whole lemon
1/2 small jalapeño pepper, thinly sliced
1/2 tsp. pure honey
2 scallions, thinly sliced
1/2 c. fresh basil, torn
INGREDIENTS
1 1/2 c. sugar
1 1/2 c. fresh lemon juice (from about 10 lemons), plus 2 lemons, sliced
Berries and fresh mint sprigs, for serving
Sweet Heat Cheerwine Baby Back Ribs
INGREDIENTS
2 tsp. smoked paprika
2 tsp. chili powder
2 tsp. dry mustard
1 tsp. garlic powder
1 tsp. ground ginger
Kosher salt and freshly ground black pepper
2 (3-lb.) slabs baby back ribs
1 (12-oz.) bottle Cheerwine soft drink
1 (15-oz.) can tomato sauce
1/3 c. light brown sugar
1 tbsp. Dijon mustard
2 tsp. chili-garlic sauce
INGREDIENTS
6-8 seedless watermelon wedges
1 cup sugar
3/4 cup boiling water
4 Tablespoons lime juice (juice of 2 limes)
1/2 cup tequila
1/4 cup triple sec
Margarita Salt (affiliate link)