HOW TO DESIGN THE KITCHEN OF YOUR DREAMS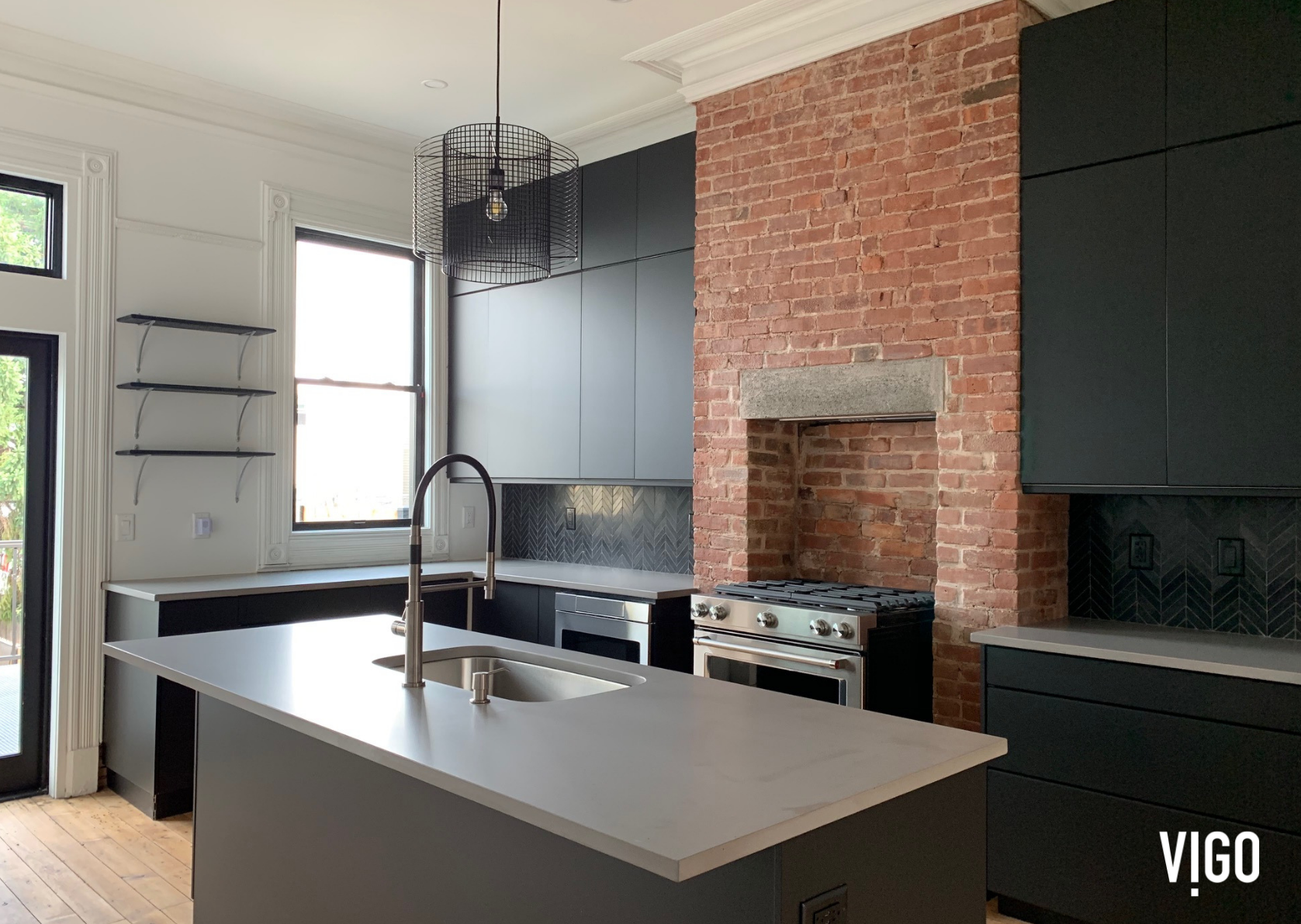 Whether you're a Michelin-star chef in training or a Chinese-food-takeout aficionado, having a Pinterest-worthy kitchen has probably crossed your mind at one point or another. When it comes to really transforming your space, however, imaginations can get the better of us. Great ideas are had by many, but effectively executing them is another story. What's more, add in the plentiful design styles, finish options, and in-the-moment trends and you'll find yourself up to your neck in choices!
In order to make the best use of your time and creativity, we put together some suggestions that will help you focus on making changes with long-lasting impact.
Remodeling a kitchen can be exciting, but it's easy to get distracted by the many design options and offerings from various sources. Instead of letting yourself get overwhelmed, hone in on one focal piece like the kitchen sink. The sink you select can make a functional and stylish impact like no other. Search for the highest quality materials like solid composite or stainless steel depending on your preference. Then think about style.
If you gravitate towards visual dramatics but still need the sink to be practical, go for a deep farmhouse apron front option like the VIGO slotted apron front Matte Stone kitchen sink, to the left. This style of the sink is an ode to farmhouse kitchens of the past but invokes modern elements with its fresh detailing. For something different yet equally effective, go for a similar design in stainless steel.
Design: Sutherland Home, VIGO
Put your design aesthetic front and center with an all-encompassing kitchen island setup. Whether it's for additional countertop space or to double as a kitchen table with stool seating, islands can do it all. Islands are versatile; they can be built with multiple levels for clever storage on one side and a full sink setup on the other.
Those who enjoy cooking and entertaining will likely do well with kitchen islands that include a bar/prep sink and separate pot-filler spout. When searching for the perfect faucet complement for your sink and island setup, look for one that either has a built-in pot-filler spout or a side variation. Another consideration, since you'll have the space, is to look for a setup with an in-counter soap dispenser. The opportunities are endless!
Design: LK PROJECTS, VIGO
GET SMART WITH APPLIANCES
Selecting kitchen appliances require a bit more discretion than a replaceable rug or lamp. They're pretty permanent, which is why it's essential to carefully evaluate all features and maybe even work with a professional before making your purchase. Think about who will be using the kitchen, how many people will be in and out, and its practical usage.
Then consider yourself! What kind of functionality do you want to work with? Is it a gas range that allows you to precisely control the flame? Or maybe you're a busy stay-at-home mom and an electric stove top would let you reheat food and boil water quickly. No one choice is better than another, but all must be considered. In addition to its function, it's imperative to consider finish as it relates to your other appliances. If all of your fixtures are in chrome, perhaps a stainless steel refrigerator and dishwasher set will do the trick.
FIND YOUR FAVORITE FAUCET
Kitchen faucets have come a long way from simply emitting a strong water flow. As a stylish addition to any kitchen layout, faucets now have a responsibility to be both fashion-forward and functional. Whether you're prepping for pasta night or bathing the baby, your kitchen faucet needs to be multifaceted and look as great as it works. From selecting the finish through its installation, kitchen faucets require a series of considerations.
While there are many options on the market, there's no need to get overwhelmed.
The first thing to do is to identify your overall style décor. If you're a modern maven, go for something like the VIGO Norwood Magnetic Spray Kitchen Faucet. Dual-action, the faucet either emits a smooth stream from the aerator spout for easy cooking and handwashing or a powerful spray for those tough-to-get-rid-of messes. Last but not least, there's a strong magnetic docking system that holds the sprayer in place when not in use.
Design: Rooted Reno & Redesign, VIGO
One simple change can make all the difference. Switch out decorative lighting fixtures over your breakfast nook or center island and see the instant transformation on your entire kitchen.
It you're looking for a warmer, more inviting aura, mix task, ambient, accent, and decorative lighting layers. This will help you get just the right amount of light for effective use and aesthetic design. Another thing to think about is adjustability. Dimmers can be great for brightening up your space for cleaning jobs or bringing down the volume for quiet evenings.
Designing your dream kitchen may require a total overhaul or could be as simple as just a few individual changes; the choice is yours! Use these tips and see your dreams become a reality.
Design: Northmade Farmhouse, VIGO